Saintfield's First Craft Cider
Glassdrumman Cider is Saintfield's first craft cider and is the dream of apple grower, William Howard. "When we moved here 15 years ago, one of my first projects was the apple orchard".
Located on the Monlough Road just 1 mile outside Saintfield, the orchard has 60 traditional trees on the side of a Drumlin. "Initially I wanted to create an orchard environment, apple blossoms and all that, for guests staying in the self-catering cottage to walk thro'. The idea to make cider came later".
The trees are all traditional Irish varieties saved from extinction by Irish Seed Savers Association (ISSA). There are 17 different varieties with great names such as Bloody Butcher, Irish Molly, Killkenny Pearmain, Cavan Sugarcane, Loughtree of Wexford and Ardcairn Russet, to name a few.
The first trees were planted in 2003 with a second batch planted the following year. It was a further 4 years before there were any apples and the idea to make cider was sown. A few half-hearted attempts were made but it was 2011 before the first substantial batch of amber liquid was ready to taste!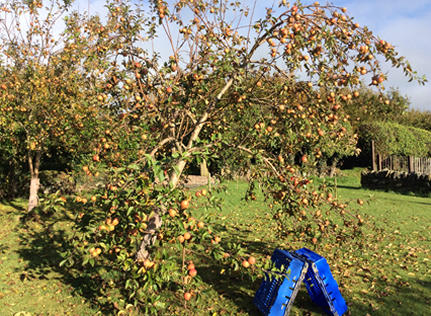 Friends and family were only too willing to help with the tasting process. The cider tasted great and the verdict was a resounding "Make more"! The sweet variety won Best In Class at the Cider Ireland Festival in October 2013.
The current cider was made from 1500kg of apples harvested in 2013. The first 1000 bottles were ready in November 2014 and the second 1000 will be bottled in July 2015.
The cider is produced in two varieties, a sweet and a dry. The sweet is soft and mellow and the dry is refreshing and crisp. Glassdrumman Cider is the taste of ll to addreal cider!
To order: Text or phone to 078 1068 6685 or visit the website www.glassdrummancider.com and email info@irishcottagetorent.com